Rustic. Traditional. Classic. Real wood custom blinds are a mixture of natural materials and gleaming metal. Only the finest wood, imitation wood, and aluminum horizontal blinds are available at Fenêtre Déco.
Slats of rich, realistic natural wood look great in any room and create a welcoming atmosphere. Real wood blinds come in many slat sizes, colors, and finishes that hold their brilliance over time. So whether you want a rustic design or a contemporary modern aesthetic, you can pick any tint, stain, or color to complement your décor.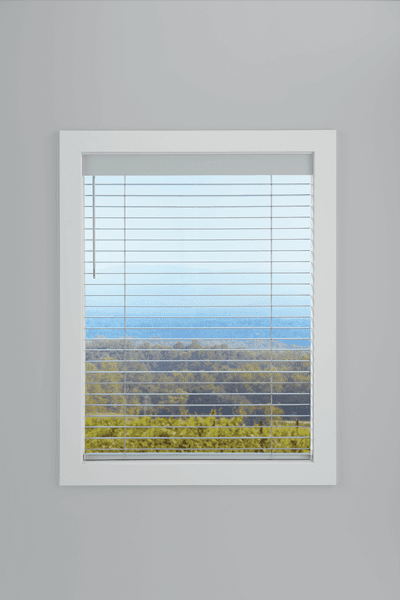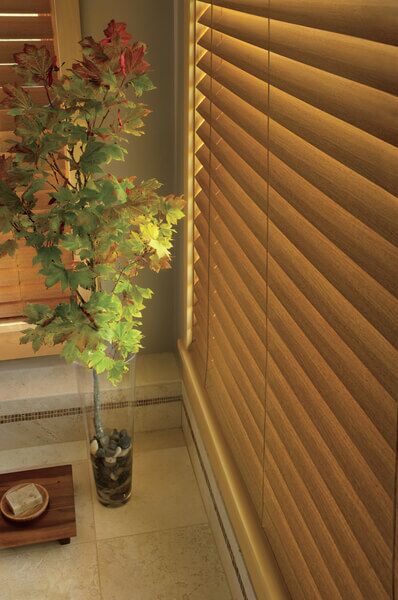 Enjoy the rich look of hardwood without the tedious upkeep. Faux wood custom blinds feature a timeless appeal that can tolerate humid conditions and direct sunlight. In addition, they resist fading, yellowing, warping, and bending. As a result, they are an excellent choice for bathrooms and sunrooms, offering many hues, finishes, and decorative possibilities.
Faux wood blinds feature the industry's most realistic stain-like finishes. Rotate the slats to regulate the amount of light and privacy. Compared to a typical wood blind, Room Darkening blocks 50% more light.
Metal custom blinds add sleek sophistication to your space.
With one of our streamlined window coverings, you can simplify your environment. Modern Precious Metals® aluminum blinds provide optimal light control and come in various slat sizes, colors, and finishes. Choose from matte, metallic, and pearlescent shades.
The MagnaView® feature allows twice as much light to pass as standard aluminum blinds. Conversely, our de-Light option removes cable holes and prevents sunlight from passing through. Few window coverings resist everyday wear and tear better than these blinds in high-traffic homes.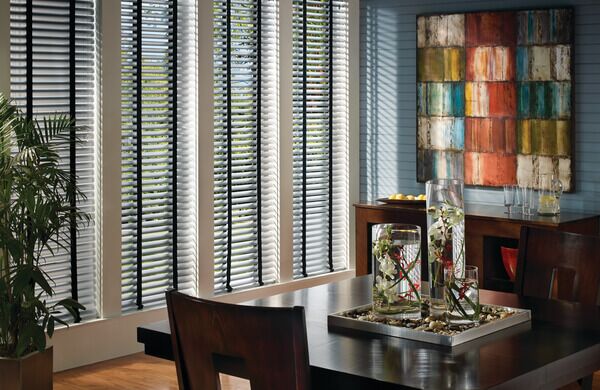 Vertical blinds give a conventional window treatment a whole new look. With its sleek, modern design that includes the Ultimate Track System, you can easily adjust heat, light, and privacy.
Our customizable vertical blinds come in vinyl, fabric, and aluminum. They are excellent for sliding glass doors or huge windows.
Vertical blinds are excellent for more oversized windows and doors. You can stack them to the left, right, or split them in the middle.
Curved vanes in soft vertical blinds enhance acoustics and minimize noise. Their headrails provide smooth, trouble-free functioning and decrease light gaps. Moreover, the two-channel track system accommodates an infinite number of panels.
Panel slide blinds deliver a sophisticated, modern refinement. Their elegant lines and minimalist design provide a discreet covering for oversized windows, sliding doors, or a room divider.
Fashionable glide custom blinds have flat fabric panels that are light and easy to operate. In addition, they are a more stylish alternative to vertical blinds because of their basic headrail track system and glider-mounted carriers.
Sliding panels are a smart way to split your room into discrete parts; the bottom weight interlocks to prevent tangling and add stability. Using the two-channel track system, you can attach an endless number of panels to the headrails.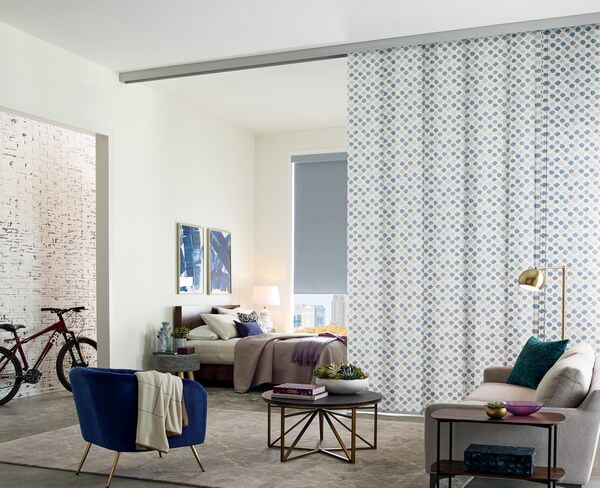 AVAILABLE OPERATING SYSTEMS
PowerView® (Motorized)
SpringRise
Wand
2 inches Slats
Valance options
Decorative Tape
Blackout & Light Filtering