ULTRASONIC BLINDS CLEANING
The process of Ultrasonic Blinds Cleaning is a process to punch the dirt out of window coverings is commonly used nowadays. The Fenêtre Déco policy entails that repair and cleaning services are provided to customers with trademark quality for up to ten years after the purchase.
The process is intricate yet powerful. We place your blinds in a tank of water (with Eco-friendly degreasers) and use high-frequency vibration motors to produce ultrasound waves in the water. These waves travel rapidly and bombard every pore of the blinds with immense force to extract any adhering particles without damaging the structure or finish of the blinds themselves.
Improved Household Air Quality
Ultrasonic cleaning removes dust without sending it into the air, which makes a difference if you or a member of your household deals with allergies, asthma, or other respiratory issues. The method has been shown to contribute to a significant increase in household air quality.
Good for the Environment

Utilizing only water and biodegradable cleaning agents, the technique is environmentally friendly. It doesn't produce any solvents or greenhouse gases that are bad for the environment.
A Speedy Solution
Unlike other methods of cleaning your blinds, this process of blasting them with ultrasonic waves takes only seconds to complete, making it one of the quickest methods of cleaning
Safe For all Window Treatments
The following kinds of window coverings can be cleaned using ultrasound:

Micro blinds
Mini blinds
Silhouettes
Luminettes
Vertical blinds
Honeycomb or cellular shades
Roman shades
Venetian blinds
Roller blinds
Pleated shades

Wood and faux wood blinds
When to Clean your blinds?
When used often, we advise cleaning your new products every two to three years. Only clean products as necessary if they are older. Although it would be challenging to overclean, it is advisable to limit cleaning to once a year in order to maintain the product's long-term quality.
What can ultrasonic clean?
Ultrasonic machines are able to remove all dirt, dust, nicotine, grime, allergy irritants and most of the recent tough stains.

Only a few highly resistant stains survive ultrasonic cleaning like old paint. If you own any window coverings that require Ultrasonic blinds cleaning, you can reach out to us and get ultrasonic cleaning as well as pick-up, drop-off and rehang services.. (see Instagram)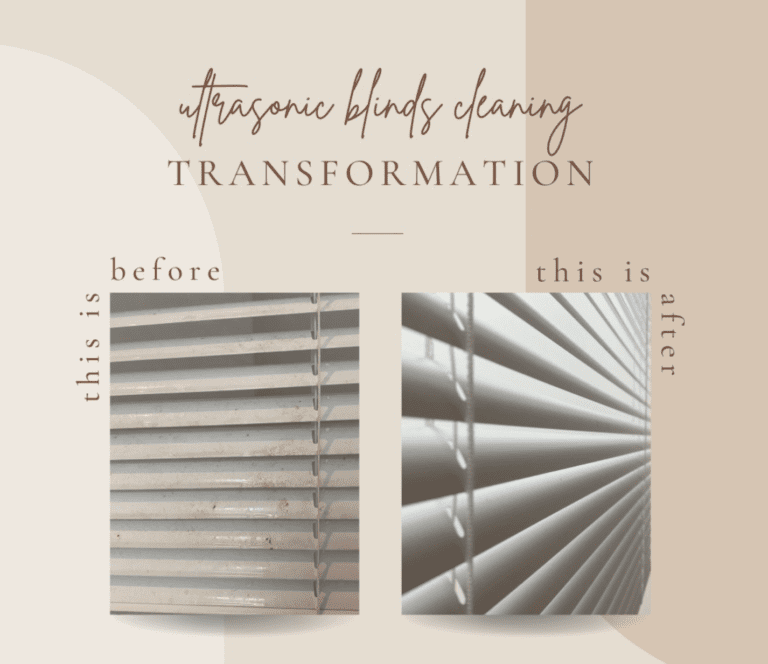 DIRTY BLINDS? GET A QUOTE