Our shutters include PolySatin and timber (Wood shutters), providing a timeless and durable design.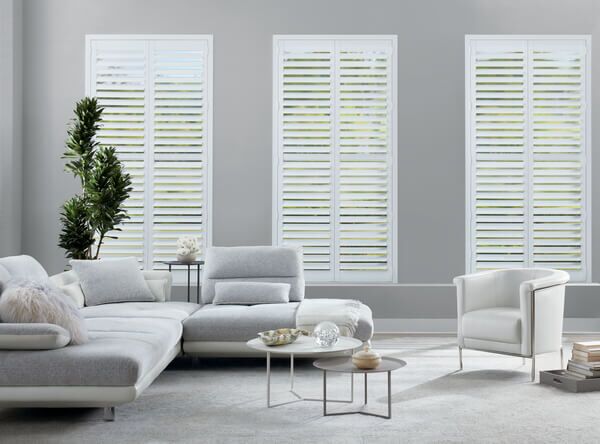 Vinyl shutters exude elegance with their realistic appearance. In addition, their non-porous surface performs well in high humidity and will not warp.
Vinyl shutters offer an advantage in cost, maintenance, and quality. Moreover, their PolySatin construction can tolerate heat and moisture. Vinyl shutters require little maintenance and are an excellent option for busy households.
At Fenêtre Déco, we will customize your vinyl shutters to accommodate any window shape and size. We will adapt them to fit arches, triangles, hexagons, octagons, and more!
Adjustable plantation shutters help manage how much thermal energy enters your home. Their cellular design confines air within an insulating pocket that cuts your energy costs.
Their polyresin construction reflects the sun's rays away from your home in summer. However, open your vinyl shutters in winter to allow the sun's warmth inside your house, lowering energy costs.
Wood shutters combine the warmth of nature with the resilience of technology. They are available in various colors, designs, and combinations to match any interior.
Our shutters use SoftClose louvers and Quick Align presets to make adjusting, aligning, and closing your wood shutters easier.
We protect our wood shutters with polypropylene covering for a high-quality, long-lasting installation. Moreover, we apply our unique Finetech low-luster finish to capture the warmth of natural wood.
SEE AVAILABLE COLOURS.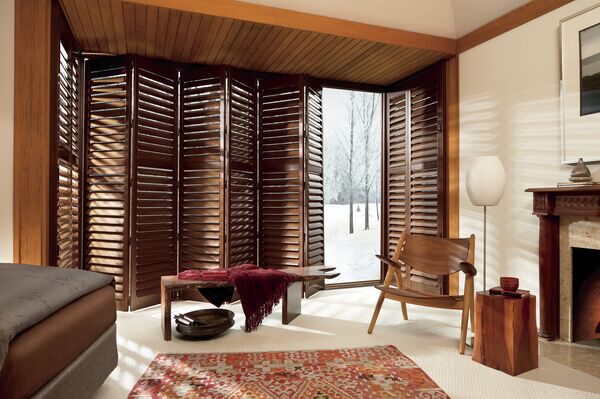 AVAILABLE OPERATING SYSTEMS
PowerView
Front or Rear tilt bar
Hidden-tilt (Internal Gear System)
Standard Hinged Panels
Bifold
Bypass (Sliding)
Specialty Shape